CLASE RECONOCE CLASE
De Paul👉 Messi #VibraElContinente #CopaAmérica pic.twitter.com/MeD494rmgU

— Copa América (@CopaAmerica) July 4, 2021
10 min agoHALF TIME: Argentina 1-0 Ecuador
Ecuado's brave resistance is finally broken with a Rodrigo De Paul goal as Argentina have a slender one goal lead in the break. Ecuador have had scoring chances as well but lack conviction in front of goal.12 min ago45′ Additioal Time: 4 Minutes.12 min ago43′ Another huge chance! Messi sends a free-kick into the box and Nico González gets his head to it but Galíndez makes the save, and then pulls off a miracle on the González rebound!13 min ago40′ GOAAAAAL! Rodrigo De Paul (Argentina)
Nicolas Gomez is clear on goal with a darting run and Hernan Galindez comes off his line. The goalkeeper mistimes his run and Messi gets the ball with his feet and finds Rodrigo De Paul on the far side who slots it home into an empty net. Argentina up 1-0.25 min ago38′ CLOSE! Ecuador have a patient build up. Diego Palacios swings in an inch perfect cross from the left to find Angel Mena who has an empty net to tap the ball home but hits the side netting. 34 min ago36′ Angel Mena whips in a low ball from a set-piece and hits the side netting of the Argentina goal.35 min ago34′ Nicolas Gonzalez is booked for a challenge on Angelo Preicado inside the Ecuador half.36 min ago32′ Messi delivers in a free-kick inside the box from the resultant free-kick but the Bolivians clear their lines with a sturdy defensive header.37 min ago30′ Alan Franco is the only one who gets booked for the challenge on Lo Celso.37 min ago29′ Alan Franco clashes into Carlos Gruezo as both the midfielders try to challenge Giovanni Lo Celso in the midfield. Both the midfielders are down injured and need medical assistance.39 min ago27′ Rodrigo Paul tries to find Nicolas Gomez with a cross-field ball but it runs out of play.42 min ago25′ SAVE! End to end action here in Golana. Bolivia break on counter and Jhegson Mendes dispatches a belter of a half volley on the Argentina goal and Emiliano Martinez makes a routine save to deny the Bolivian.44 min ago23′ POST! Messi gets on the break after Carlos Gruezo gives the ball away dangerously in their own half to the Argentine number 10. Messi has all the time in the world to place it perfectly into the back of the net but hits the right goalpost and the ball comes back into play and Hernan Galindez collects with a profound sigh of relief.47 min ago19′ Argentina playing it among themselves at the back, looking for an opening. The Bolivians are quite high up the pitch looking for a break.50 min ago17′ Messi's corner finds Leandro Parades who takes it with his chest and has a half volley scuffed on the side netting.50 min ago15′ Lionel Messi takes a shot on goal with his weaker foot. The shot hits Piero Hincapie's arms en route to the goal. The VAR has a check on a possible penalty check and decides that the hand ball was unintentional.54 min ago13′ Ecuador with a decent passage of play. Carlos Gruezo bursts in counter and sets up Diego Palacios for the final ball into the box but his pass outward to Enner Valencia is out of play.57 min ago11′ Preciado is back on the pitch after an emergency bandage to his wrist. Game resumes.59 min ago9′ Nicolas Otamendi is penalised for a foul on Angelo Preciado. The Bolivian medics are on the pitch to provide assistant to the injured right-back.an hour ago7′ Ecuador have a corner of their own swung in from the left and the Argentine defence clear the danger away.an hour ago5′ Leandro Parades finds Lautaro Martinez with a through ball, whose shot on goal is saved by Hernan Galindez.an hour ago3′ Argentina get a short corner taken with Rodrigo de Paul passing to Messi whose cross with the right foot is cleared away by the Ecuador defence. an hour ago1′ KICK-OFF! Argentina get us underway in their traditional Blue and White Stripes. Ecuador have donned their yellow and blue stripes.an hour agoThe teams sing the National Anthem loud and proud in an empty Estadio Olimpico Pedro, we are set for kick-off.an hour agoThe winners of the tie will meet Columbia in the semi-finals who got the better of Uruguay in the other quarter-final courtesy of David Ospina's heroics in the penalty shoot out after a goalless regulation time.an hour agoThe teams walk out to the middle amidst the Copa America 2021 anthem.2 hr agoGustavo Alfaro seems to have opted for a textbook 4-2-3-1 structure with Enner Valencia as the sole striker. Angel Mena and Jhegson Mendez are the double pivots.2 hr agoLionel Schaloni has gone for a 4-3-3 formation with Lionel Messi essentially on the left side who can drop down in the number 10 position later in the game.2 hr agoArgentina Subs: Franco Armani (GK), Augustin Marchesin (GK), Nicolas Tagliafico, Lisandro Martinez, Gonzalo Montiel, Guido Rodriguez, Angel Di Maria, Exequiel Palacios, Sergio Aguero, Alejandro Gomez, Joaquin Correa, Angel Correa

Ecuador Subs: Alexander Dominguez (GK), Pedro Ortiz, Mario Pineida, Xavier Arreaga, Felix TOrres, Jose Hurtado Cheme, Moises Caicedo, Christian Noboa, Gonzalo Plata, Michael Estrada, Fidel Martinez, Leonardo Campana2 hr agoArgentina XI: Emiliano Martinez (GK), Nahuel Molina, German Pezzella, Nicolas Otameni, Marcos Acuna, Rodrigo De Paul, Leandro Paredes, Giovani Lo Celso, Lionel Messi (C), Lautaro Martinez, Nicolas Gonzalez

Ecuador XI: Hernan Galinez (GK), Angelo Preciado, Piero Hincapie, Robert Arboleda, Pervis Estupinan, Jhegson Mendez, Angel Mena, Diego Palacios, Carlos Gruezo, Alan Franco, Enner Valencia (C)
🏆 #CopaAmérica La Selección ya se encuentra en el Estadio Olímpico Pedro Ludovico Teixeira de Goiânia. ¡Vamos, Argentina! pic.twitter.com/KHXIv20Ktp

— Selección Argentina 🇦🇷 (@Argentina) July 3, 2021
Ecuador Predicted XI (5-4-1): Hernan Galindez; Piero Hincapie, Diego Palacios, Robert Arboleda, Angelo Preciado, Pervis Estupinan; Alan Franco, Jhegson Mendez, Moises Caicedo, Eduar Preciado; Enner Valencia5 hr agoArgentina Predicted XI (4-2-3-1): Emiliano Martinez; Gonzalo Montiel, Lisandro Martinez, Nicolas Otamendi, Marcos Acuna; Leandro Paredes, Rodrigo De Paul; Giovani Lo Celso, Lionel Messi, Alejandro Gomez; Sergio Aguero
🏆 #CopaAmérica En la previa del compromiso ante #Ecuador 🇪🇨, el detalle de cómo le fue a la Albiceleste 🇦🇷 en sus últimos encuentros por cuartos de final.

📝 https://t.co/5vDaX3se31 pic.twitter.com/M8aeYhbVr2

— Selección Argentina 🇦🇷 (@Argentina) July 3, 2021
Brighton star Moises Caicedo was stretchered off the pitch against Brazil but might be able to recover in time for this game. Ecuador do not have any injury concerns and will need to field their best team against Argentina.5 hr agoArgentina have a fully-fit squad and have a host of lethal attacking players in their ranks. Cristian Romero and Angel Di Maria have recovered from their knocks and should be available against Ecuador.5 hr agoArgentina have a brilliant record against Ecuador and have won 21 matches out of a total of 36 games played between the two sides. Ecuador have managed only five victories against Argentina and need to take it up a notch this weekend.The previous meeting between the two teams took place last year and ended in a narrow 1-0 victory for Argentina. Lionel Messi scored the winner on the day and will look to add to his impressive goal tally in this match.
🎟️✈️¡EL ÚLTIMO PASAJE EN JUEGO!

🏟️Goiania será testigo del duelo entre 🇦🇷@Argentina y 🇪🇨@FEFecuador en el último cruce de cuartos de final de la CONMEBOL #CopaAmérica 🏆

ESP https://t.co/qHQtP968LY
PT https://t.co/FsyHNU23NA#VibraElContinente #VibraOContinente pic.twitter.com/emfO81K00I

— Copa América (@CopaAmerica) July 3, 2021
Argentina are back in action with their first knock-out fixture of Copa America 2021 as they take on Ecuador at the Estadio Olimpico Pedro Ludovico on Saturday. Argentina are one of the favourites to win the tournament and hold the upper hand going into this game. Ecuador finished in fourth place in Group B in Copa America 2021 but have managed to put up some resilient displays in recent weeks. The Ecuadorians held Tite's second-string Brazil outfit to a 1-1 draw in their previous game and will need to put in a similar effort in this match. Argentina, on the other hand, were held to a draw by Chile in their first game of the competition but have since secured three consecutive victories. Lionel Messi inspired La Albiceleste to a 4-1 victory against Bolivia last week and will need to replicate his heroics in this fixture.5 hr agoLionel Messi is the player who has completed the most dribbles at the CONMEBOL Copa América (22).5 hr agoArgentina is the only team at the CONMEBOL Copa América to have scored directly from a freekick: Lionel Messi scored against Chile on the opening game of the competition5 hr agoEcuador has only lost 1 of their last 5 games in the CONMEBOL Copa América. However, they have not won any of these 5 games with 4 draws (3 consecutively).5 hr agoArgentina has not conceded against Ecuador in the CONMEBOL Copa América in any of their last 5 meetings (3 wins, 2 draws). In this period Argentina has scored 12 and conceded 2.5 hr agoArgentina has never lost to Ecuador in their 15 meetings at the CONMEBOL Copa América (10 wins, 5 draws). Argentina has scored in 13 of the 15 games but this is the first meeting in the knockout round.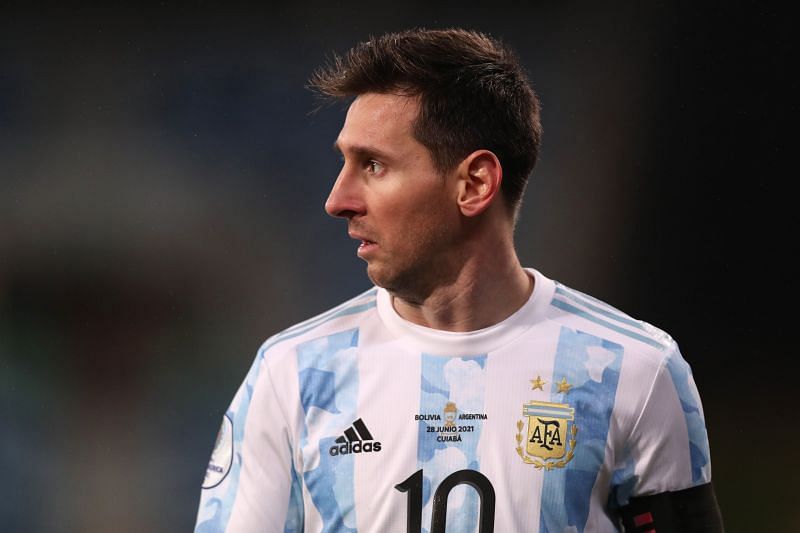 Hello and Welcome to Sportskeeda's LIVE coverage of the Copa America 2021 quarterfinal between Argentina and Ecuador from the Estadio Olimpico Pedro Ludovico in Goiana, Brazil. This is your host, Sayak Dipta Dey, who will keep you company as the action unfolds here.