Deandre Ayton has been on a tear in the NBA Playoffs of 2021, playing up to his reputation as the first overall pick in the 2018 Draft.
This season, the Phoenix Suns' star has been a crucial element in helping his club reach the Finals. Despite being in his first Playoffs season, Ayton, 22, has looked unstoppable on both sides of the court.
He's progressed in many areas of his game. Despite scoring a career-low 14.4 points per game this season, it's clear to say Ayton has grown and matured tremendously as a player. Ayton has mastered the nuances of the game and how to make the most of his inherent ability and aptitude under Chris Paul's tutelage.
Ayton talked about his progress as a player and how he had no issues with the modifications he had to make in his game this season in an interview with The Athletic a few months back.
"I'm doing what I do best, affecting the game on both ends of the floor and primarily being a presence: being the size I am, embracing my length and size, communicating with my voice, my ability to move and rebound, and strength-wise, being physical, being a defensive anchor, trying my hardest to protect the defensive end of the floor, being the hustle man, to be honest."
Deandre Ayton is swiftly developing into one of the top two-way players in the NBA, as seen by the 2021 NBA Playoffs. With his outstanding performances thus far, he has already smashed numerous records.
Ayton is the only player in NBA Playoffs history to make at least 80% of his field goals on 10 or more tries in four games, a feat accomplished by no other player.
The @Suns Deandre Ayton has recorded four games in the 2021 NBA Playoffs in which he's made at least 80% of his field goals on 10 or more attempts.

No other player in NBA history has recorded four such games in a single postseason. pic.twitter.com/uEENeTO3Hi

— Justin Kubatko (@jkubatko) July 6, 2021
In a single postseason campaign, Ayton has taken more shots than any other player in NBA Playoffs history. He has succeeded in 71% of his attempts (minimum 150 attempts).
At 22, Deandre Ayton is on pace to make a higher share of his shots than any volume scorer in playoff history

He's made 71% of his shots during the playoffs, the best rate ever in a single postseason (min. 150 FGA)

The Shots That Will Define The Finals https://t.co/uvOX0FRTLG pic.twitter.com/A9Xye5f5hR

— Kirk Goldsberry (@kirkgoldsberry) July 6, 2021
Ayton has set a slew of other records, and he's on his way to breaking even more. On that topic, here are three more such accomplishments he may accomplish by the end of the 2021 NBA Finals to cap out his incredible postseason run.
3 Most games in NBA Playoff history with 20+ points and 10+ rebounds on 80% FG shooting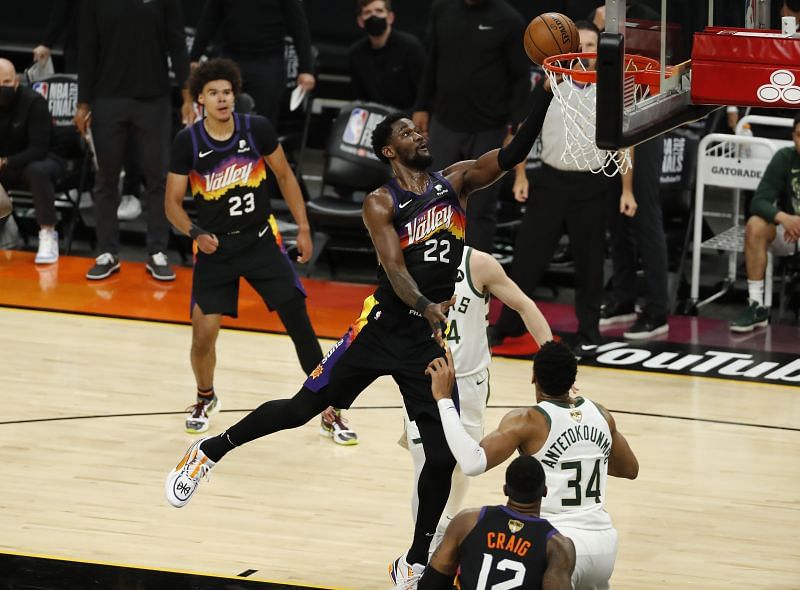 In the ongoing 2021 NBA Playoffs, Deandre Ayton's shot-making efficiency has been amazing, which is one of the reasons he has broken so many records thus far.
Another accomplishment he might attain as early as Game 2 of the NBA Finals is to have the most games in postseason history with 20+ points and 10+ rebounds on 80 percent field goal shooting. In his 17 career postseason games, Ayton has four times had this stat line.
Dwight Howard, a veteran, now holds the record with five games with the same stat line. It's worth mentioning that Howard has 125 playoff games under his belt, while Ayton has only 17.