Fishing is one of the most popular pastimes among Animal Crossing game players. They can do this in the ocean or in one of the many rivers on their islands. The rarity of the fish in the game varies. While certain fish, such as black bass, are somewhat abundant, there are a handful that are extremely rare.
The coelacanth is one of these fish. Everything you need to know about this Animal Crossing fish species is right here.
Coelacanth in Animal Crossing: New Horizons: Everything You Need to Know
The huge and blue appearance of the coelacanth makes it one of the most sought after and uncommon fish. While this fish can be caught all year in the water, it only appears in abundance under certain circumstances.
When it rains or snows, the Coelacanth is numerous. In New Horizons, though, it is more noticeable when it rains. So, keep a watch on the sky to see when it's going to rain so you can get ready to catch a Coelacanth. On an Animal Crossing island, an overcast sky can indicate rain.
Fish bait produced with manila clams has proven to be particularly efficient in attracting the Coelacanth. Players must visit a pier along the coast and drop the fish bait into the ocean with this fish bait.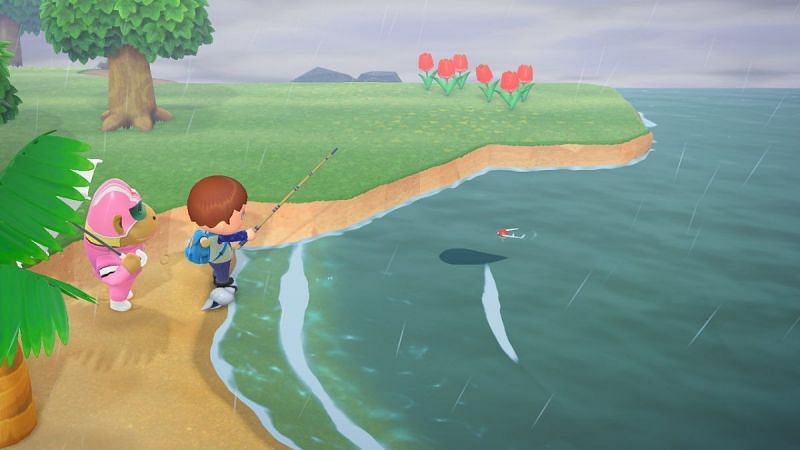 Because coelacanths cast large shadows, they should be easy to notice. Furthermore, this fish species is there throughout the day, every day of the year, so players do not need to rush when it begins to rain; the coelacanth will be there for you to catch!
Players can sell the coleacanth for 15000 Bells once they've caught it. Alternatively, after speaking with Blathers about the coelacanth, players can donate it to the museum.