Mobile gamers can purchase a variety of in-game accessories in Free Fire. Players must spend diamonds in order to obtain these things (in-game currency). These diamonds must be bought with actual money.
Because the majority of Free Fire players are teens, they frequently run into financial difficulties while purchasing products or topping up diamonds. As a result, they are on the lookout for free Free Fire skins and diamonds.
Diamond and skin generators for Fire are available for free.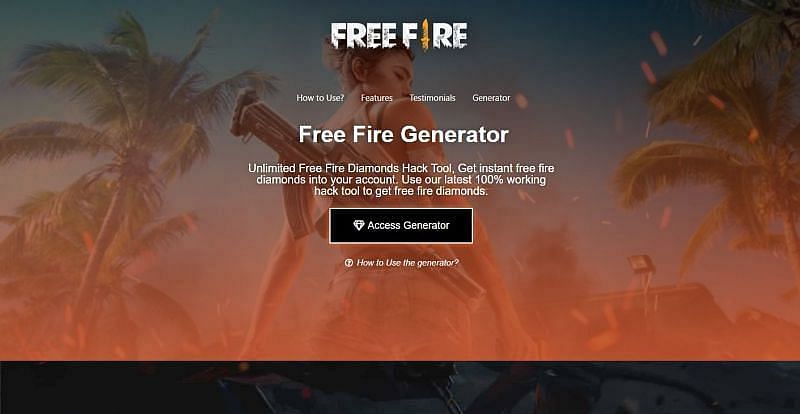 In their hunt for free diamonds, Free Fire mobile gamers visit bogus diamond generator websites. These are unethical and unlawful websites. The same may be said for websites that provide skin generators.
These sites frequently seek out and trap innocent Free Fire players. Players divulge personal information such as their Player ID, putting themselves in jeopardy.
Consequences possible
These bogus websites can steal the Player IDs of Free Fire players and use them for nefarious purposes. This may put players at risk of having their accounts suspended.
When it comes to preventing hackers and cheaters in-game, Garena has a strict regulation. Players can learn more about the anti-hack FAQ policy by reading it.
"At Free Fire, we have a strict no-cheating policy. Their cheating accounts will be permanently banned. Cheating devices will also be barred from playing Free Fire under any other accounts."
Players can learn more about what other acts can result in an account being banned by reading this article.
Diamonds and skins can be obtained through a variety of methods.
The possibility of getting diamonds for free is not completely gone, and this article will show you how to find out. To do so, mobile gamers can use Google Opinion Rewards or participate in in-game events.
Free Fire players can earn gold coins by participating in in-game events. They can then exchange their gold coins for free skins and character packages.