Jai, a character created by Garena, will be withdrawn from the Free Fire store in a few days.
Jai is the first Indian playable character in Free Fire and is the in-game identity of Bollywood superstar Hrithik Roshan. As part of the game's partnership with the actor, the character was confirmed in July 2020.
Initially, Jai could be obtained through the "Be The Hero" campaign. Last year, as part of the event, a free gun skin was also available.
Owners of Jai in Free Fire can continue to utilize him after July 31st.
Free Fire just announced on all of their social media accounts that after July 31st, 2021, Jai would no longer be accessible in the in-game market. Players who already possess the character, on the other hand, will be able to utilize it as usual.
The following is an excerpt from the article:
"Survivors! Jai will be leaving for a top-secret assignment and will no longer be available in Free Fire, which we regret. Let us provide you everyone some information regarding his farewell while we organize his farewell party."
"After July 31st, Jai will no longer be available for purchase. Players who already own his character can keep it and utilize it normally in the game. During Jai's departure ceremony, you have a chance to receive Jai for free."
A sequence of events will be added to the game to commemorate Jai's departure, according to the devs.
Several details concerning these incidents have been leaked. The events will begin on July 19th, according to Aorus FF, a prominent data miner.
Jai character in Free Fire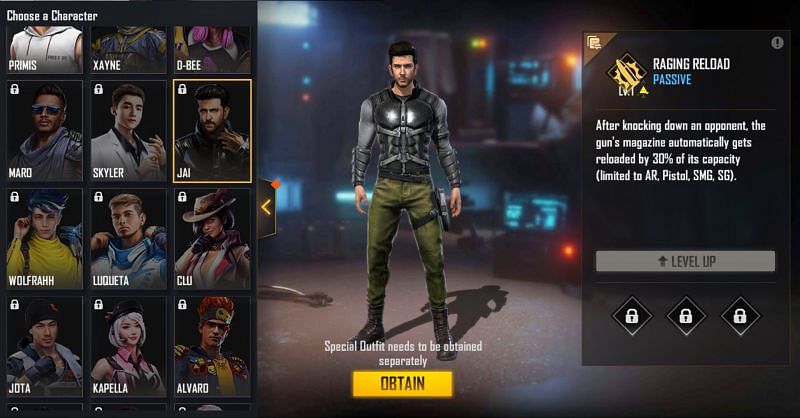 Jai's ability in Free Fire is Raging Reload. When players knock down an enemy with ARs, pistols, shotguns, or SMGs, this ability immediately reloads a gun's magazine by 30% in its default state.
This ability reloads a gun's magazine by 45 percent at its greatest level.
This reduces the need to transfer and reload guns as frequently during combat.