Since his NBA debut, Evin Booker has been a vital part of the Phoenix Suns' setup. Booker is finally in the NBA finals with the Phoenix Suns, with the chance to win the Larry O'Brien championship trophy for the first time in his career, after years of heartbreak.
With Game 1 of the NBA finals between the Phoenix Suns and the Milwaukee Bucks slated for Tuesday, Phoenix will be hoping to gain an early lead, and Booker will undoubtedly play a key role in that effort.
We'll look at Devin Booker's role on his squad and how he can hurt the Milwaukee Bucks in the NBA finals in 2021 in this post.
The role of Devin Booker on the Phoenix Suns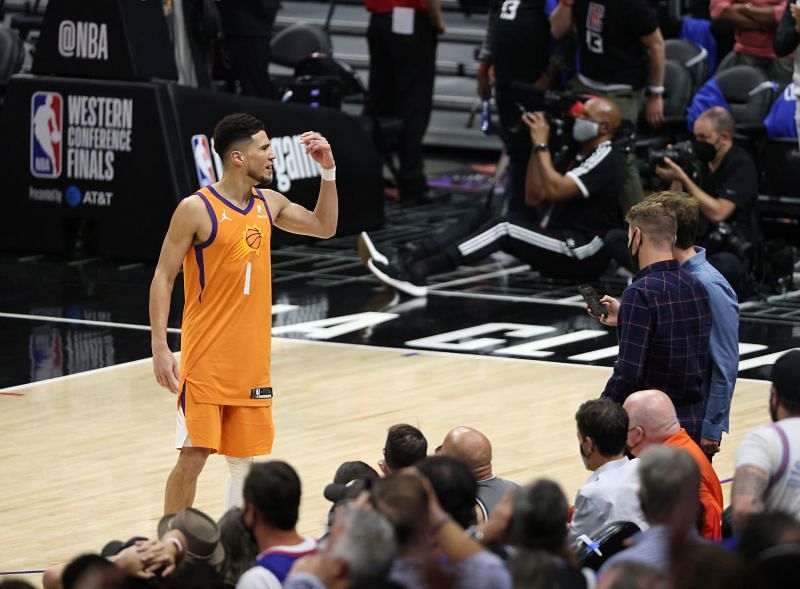 The Phoenix Suns have entrusted Devin Booker with the task of being the team's leading scorer. Since his sophomore year, Booker has had a scoring mentality that has led to him averaging at least 22 points per game.
During the regular season of the 2020-21 NBA, he averaged 25 points per game, demonstrating his scoring prowess.
In the previous few years, Booker has improved his playmaking abilities. For the Suns, he shares ball-handling duties with point guard Chris Paul, which includes executing pick-and-roll strategies with DeAndre Ayton at times.
So far, Devin Booker's performance in the 2021 Playoffs has been outstanding.
"The big reason was the light skin guy right here, No. 1 Devin Booker. … He is a dog."

—Chris Paul on why he wanted to play for the Suns pic.twitter.com/jcqIqiT3Xp

— ESPN (@espn) July 1, 2021
During the NBA playoffs in 2021, Devin Booker has been on fire. Per game, Booker averages 27 points, six rebounds, and four assists. Apart from collecting close to one theft per match, he has done so on 44-34-91 shooting splits.
Game 1 of the Western Conference finals against the Los Angeles Clippers was the pinnacle of Booker's incredible postseason journey.
With Chris Paul sidelined due to COVID-19 regulations, Devin Booker put up 40 points, 13 rebounds, and 11 assists for his first career triple-double.b
Key responsibilities for Devin Booker versus the Milwaukee Bucks in the 2021 NBA Finals
Devin Booker – 13th pick, 6 years, 5 coaches, 80 teammates, 2 all star appearances, 1 playoff berth, 1 TRIP TO THE NBA FINALS. pic.twitter.com/b99Yl4Mj3c

— Mike Vigil (@protectedpick) July 1, 2021
Devin Booker is a three-level scorer with the ability to punish the Milwaukee Bucks from the mid-range, making him almost unguardable. Throughout the series, Booker's main task will be to deliver a healthy return of points.
There's a chance he'll be doubled, especially if he's in a tight spot. Coach Monty Williams will expect him to locate an open teammate for a three or a simple two in those situations.
Mike Budenholzer will most likely play Pat Connaughton on Devin Booker if Giannis Antetokounmpo misses Game 1. Khris Middleton will be the Suns' shooting guard if Connaughton does not start and Budenholzer goes big.
Connaughton is a strong candidate for the Booker assignment, which would provide Middleton with a considerably easier defensive matchup.
Connaughton is a thorn in the side on defense, and he'll be hounding Devin Booker for the duration of the game. Connaughton isn't anticipated to play much on offense, which will let him to focus on matching up with Booker.
As a result, Booker will need to conserve his energy, and playing off the ball may be one method to do it. This will help him to remain relatively fresh for the third and fourth quarters, when the Phoenix Suns will require his arsenal of skills.