In Garena Free Fire, gun skins are some of the most sought-after cosmetics. They're not just for show; certain choices improve the weapon's statistics, which can have a big impact on the battlefield.
The creators have included a wide array of activities in Free Fire to match the FFIC Finals. The live-watching milestone is one of them.
Fans will be able to choose one of four awards if 400K live viewers are reached during the stream, including the exceedingly rare M4A1 FFCS skin.
"Watch the Free Fire India Championship 2021 Fall Grand Finals and earn incentives by reaching certain live viewing milestones."
They will be given a "FFIC Gold Token" if the 400 thousand-watching milestone is reached, which they can use to claim an item from the following options:
One-Finger Pushup (Emote)
Skyler character
Beaston pet
M4A1 – FFCS (Weapon skin)
The following rewards are also available
Pickup Truck – Fancy Ride:200 thousand live-watchersCustom Room Card and Mag-7 Executioner:300 thousand live-watchers
A redemption code for these two gifts, as well as the FFIC Gold Token, will be given out during the live stream. Following these steps, gamers can claim the M4A1 – FFCS skin in Free Fire after receiving the token:
Step 1: They should go to the events section and select the "Esports" tab by clicking on the Calendar button.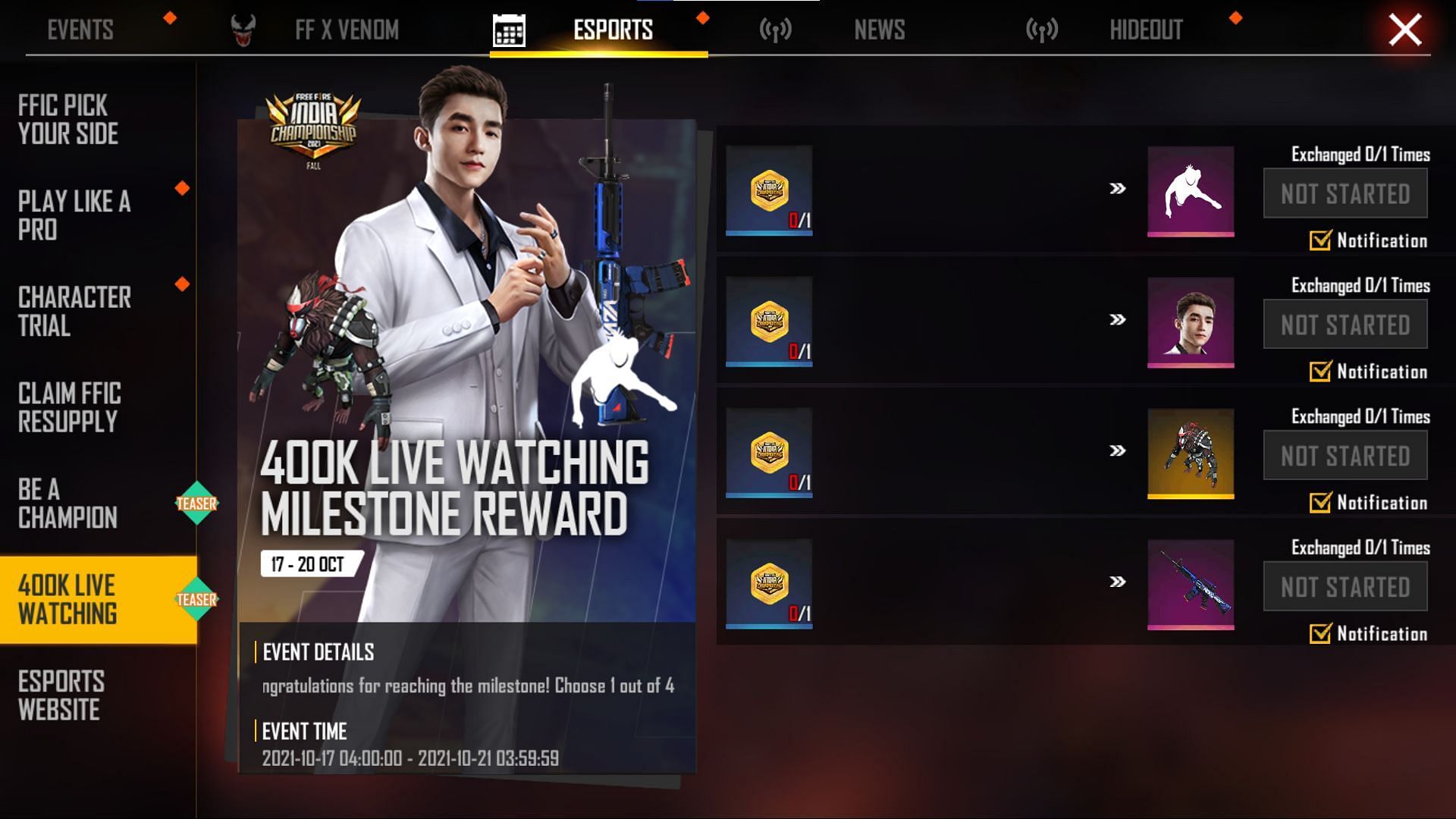 Step 2: They must select "400K Live Watching" and then use the FFIC Gold Token to redeem the M4A1 – FFCS skin.
Players will only get the pistol skin if they reach the 400 thousand live watching milestone.