Indian Free Fire players awaited the arrival of the rare Angelic pants on the server with bated breath. On the 3rd of October 2021, Garena replied to user pleas by announcing that the much-anticipated cosmetic would be added to the game.
Finally, as part of the top prize of the Angelic Wish event, the creators have developed Angelic Pants. In addition, by spending diamonds in the event, which began on October 4, 2021, consumers can obtain a wide choice of cosmetics. Before it shuts on October 10, 2021, they will have the chance to get exceedingly rare things.
How to get Angelic Pants in Free Fire
Users must wish for a chance to receive the Rapper Angel Bundle's exclusive prize, which includes the rare collectible Angelic Pants. More crucially, things that users already own are removed from the prize pool, improving the odds of winning the ultimate prize in the end.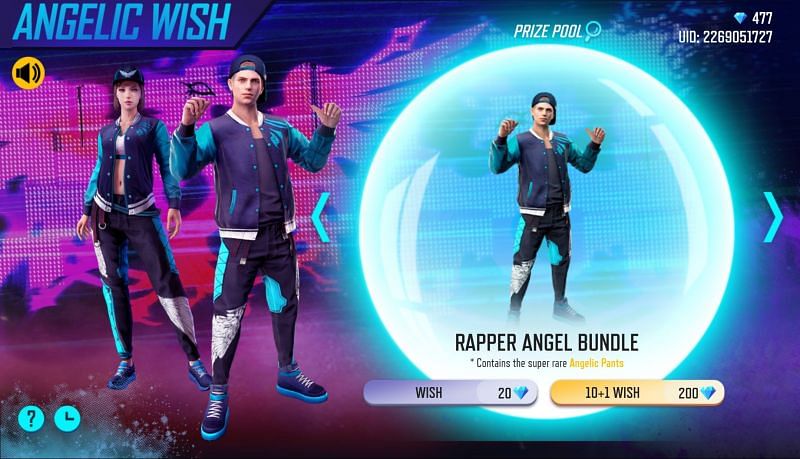 A single wish costs 20 diamonds, whereas a bundle of 10+1 wishes costs 200 diamonds. It's important to note that they're not guaranteed to get the bundle within a certain amount of wishes or tries.
Prize Fund
Angelic Wish in Free Fire has two prize pools: one for rare items and one for common items.
Prizes that are one of a kind
Rapper Angel Bundle
Hiphop Angel Bundle
Gloo Wall – Angel Wings
Dragon Gangster (Facepaint)
Winterlands Light
Star Light
Moon Flip
Party Dance
Spikey Spines Backpack
Space Monster
Yeti Buddy
Spikey Spine Loot Crate
Winterlands Ice Box
Punkster Surfboard
Space View
Street Dominance
Beast in the Sky
Beast of the Galaxy
Space Creature
Cube Fragment
Diamond Royale Voucher (Expire by 30 November)
Weapon Royale Voucher (Expire by 30 November)
Gold Royale Voucher
Winterlands AK Box
Assassin Scar Box
Warrior Spirit Famas Box
AI Gun Box
Master of Minds Gun Box
Pet Food
Resupply Map
Scan
50x Universal Fragment
50x Memory Fragment (Thiva)
50x Memory Fragment (Dimitri)
50x Memory Fragment (D-Bee)
50x Memory Fragment (Xayne)
50x Memory Fragment (Maro)
Steps to access the event and attain the rewards
Step 2: Next, users must select Angelic Wish and tap on the go-to button in order to visit the interface.