In Free Fire, costume bundles are some of the most sought-after cosmetic products. They can be obtained in a variety of ways, with Luck Royales like Diamond Royale emerging as one of the more viable options.
The Bladebill Soarer Bundle is available to gamers as part of the ongoing Diamond Royale, which is set to end soon. The developers are offering a special 50% discount on every spin today, October 12th.
As a result, everyone who wished to get the bundle can now try their luck and spend fewer diamonds in the process. Users are not guaranteed to receive the package after a certain amount of spins on Diamond Royale.
In Free Fire, here's how to get a Bladebill Soarer bundle with 50% off spins.
In general, players must spin in the Diamond Royale to be eligible for the top prize, which in this case is the 'Bladebill Soarer' package. It's worth noting that the spins aren't free, and each one costs a specific number of diamonds.
Following the big 50% discount, each spin will cost 30 diamonds, while a collection of 10+1 spins will cost 300 diamonds.
Furthermore, as the individuals' luck improves with each subsequent spin, their overall chance of winning the big prize grows.
The following is a list of the bundle's contents:
Bladebill Soarer (Top)
Bladebill Soarer (Bottom)
Bladebill Soarer (Shoes)
Bladebill Soarer (Head)
Bladebill Soarer (Face)
In Garena Free Fire, here are the steps to go to the Diamond Royale.
Step 1: After launching Free Fire on their device, players can go to the left of the main lobby and pick the 'Luck Royale' icon.
Step 2: The Luck Royale area will open after you click the icon. Then, under Diamond Royale, customers can select the appropriate spin choice to draw the prizes.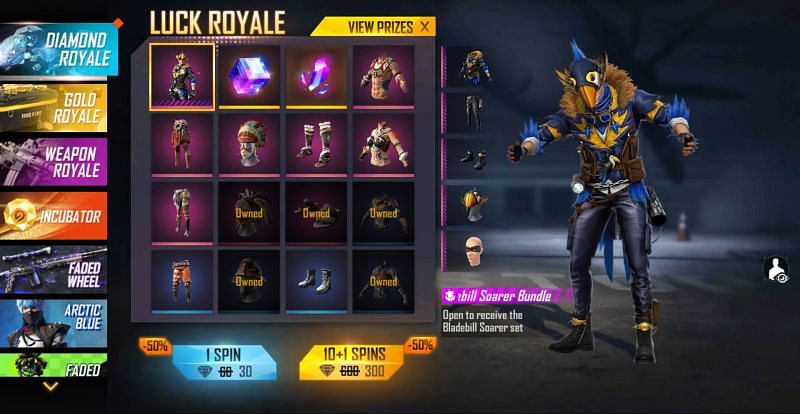 Diamonds will be deducted from the prize pool, and a random reward will be withheld.