Free Fire has announced that users will have the opportunity to receive the Blue Flame Draco AK skin for free. It's a prize for winning the Fastest Finger First event at the Free Fire City Open National Finals on August 15.
The game features a wide variety of engaging gun skins, each of which improves a certain aspect of the gun skin while also improving its aesthetic. In addition, the game has a collection of Evo gun skins that come with their own set of benefits.
Animation, appearances, exclusive emotes, attribute enhancements, and more are all included. These will become available as players improve their gun skins. Because the Blue Flame Draco AK is one of the most popular Evo gun skins, this event provides the ideal opportunity for users to obtain it.
Free Blue Flame Draco AK skin in Free Fire
Blue Flame Draco will be up for grabs in the Fastest Fingers First event at the FFCO National Finals on August 15, 2021, as previously indicated.
During the breaks between matches, the developers will design two special rooms for this event. Each lobby's first 12 players will receive special Blue Flame Draco AK skins.
The casters will share the room ID and password, which will also be presented on the screen during the break. The rewards will be given out in the order that people entered the lobby.
The following are the specifics of the situation:
Level 7 Draco AK skin for the top three wins Level 4 Draco AK skin – 4th to 7th place Level 1 Draco AK skin (last 5)
The regulations state that players must remain in the lobby until it is disbanded so that the administrator can record the Free Fire ID. The prizes will be deposited immediately into the players' accounts.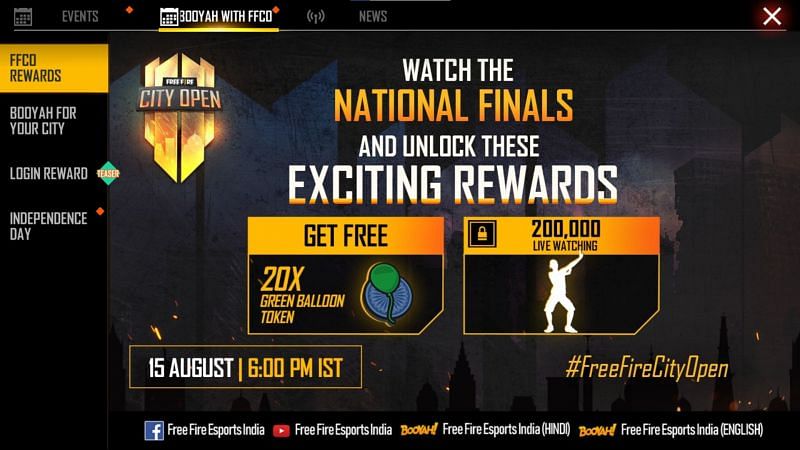 Further, contest users will also receive 20x Green Balloon Tokens. This is necessary to claim the Blue Blaster Bundle from the Independence Day event.