Early Access to Battlegrounds Mobile India has been granted to a large number of Indian players. However, some people are still unable to use the title because the testing program has reached its maximum capacity.

Early Access to Battlegrounds Mobile India has reopened, and these players can join the testing program by clicking here. The program is only scheduled to be available for a limited period.
They can then go to the Google Play Store to download the game, which is 721 MB in size for Android users.
What about the Battlegrounds Mobile India (BGMI) iOS Early Access?
iOS users' dreams of having access to the game were renewed after the latest social media post by Battlegrounds Mobile India was issued. The Early Access for the BR title is now "officially open for everyone," according to the post.
However, iOS users were upset to see that Battlegrounds Mobile India was missing from the Apple App Store. They are not even allowed to pre-register for the game.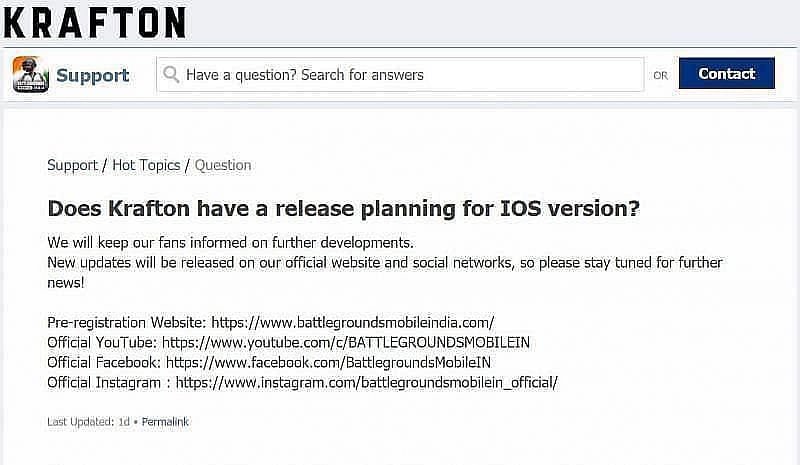 Once the final version is ready, iOS players should be able to download Battlegrounds Mobile India directly from the Apple App Store. Krafton, on the other hand, has made no public statement on the subject.
Dear @BattleGames_IN
What about an iOS version of the game..?
As an iOS user I can't download it now, even Our other countrymen (iOS users) suffers the same issue.
I hope ur team should look for this matter.#battlegroundsmobileindia #BGMI #battlegroundsmobileindia

— Lay Desai (@laydesai97) June 18, 2021
When asked about the iOS version of Battlegrounds Mobile India, Krafton replied that they will keep the gamers updated if there were any additional changes. This response was posted to the title's official website's Support area.
Fans may stay up to date by following the official Battlegrounds Mobile India Twitter accounts: