Jadon Sancho has finally finalised his transfer to Manchester United, bringing an end to a more than year-long transfer controversy. Only a few formalities remain to be completed before the England winger becomes an official Red Devils player, according to the club.
When that notification landed… 📱👀#MUFC #UnitedOnTikTok pic.twitter.com/PbYuoOLcBq

— Manchester United (@ManUtd) July 1, 2021
While a detour through Borussia Dortmund isn't strictly necessary to get from the blue to the red half of Manchester, both teams will be grateful that Jadon Sancho selected that route. Manchester United is said to be paying £73 million for the 21-year-old, with a minor portion of that going to Manchester City. Sancho's time in Germany has revealed a slew of attacking talent ready to take the Premier League by storm when the new season begins in 2021-22.
There are obvious structural differences between the Bundesliga and the Premier League. The latter has more top teams, and the quality of players in England is generally considered to be superior. The fresh interest in Jadon Sancho stems from his reasonable resemblance to the English environment, as well as the hope that he may repeat his Bundesliga form on the shores he has previously graced.
So, why has Jadon Sancho been courted by the Red Devils so many times? What exactly does he offer Manchester United that they don't already have?
Jadon Sancho excels at moving the ball forward.
Manchester United has a number of outstanding players that are capable of moving the ball forward. Their ball advancement levels are already quite high, thanks to Marcus Rashford, Mason Greenwood, and, when necessary, Daniel James, as well as Bruno Fernandes and Paul Pogba in midfield.
Manchester United, on the other hand, has frequently relied on movement forward from the center of their left flank, with the right flank providing comparably less attacking thrust. To compensate for Aaron Wan-lessened Bissaka's attacking potential from right-back, United really need Jadon Sancho's intriguing combination of width and dribbling on the other flank.
A comparison of all of United's attackers from their best individual seasons reveals why Jadon Sancho is so important to the club. In the 2019-20 Premier League season, Anthony Martial, Daniel James, Mason Greenwood, and Marcus Rashford had their best productive seasons in the top level. In the 2017-18 Ligue 1 season, Edinson Cavani, on the other hand, was unstoppable for Paris Saint-Germain. The data for this research comes from Jadon Sancho's 2019-20 Bundesliga season.
(Note: The horizontal bars represent the player's Carries into the Penalty Area per 90 minutes, while the vertical line represents their Dribbles Completed every 90 minutes.)
As you can see from the graph, Jadon Sancho has the most Carries into the Penalty Area and Dribbles Completed per 90 minutes of any player on this list. On all counts, the 21-year-old scored an average of 1.85 and 3.66. Daniel James is the next top player on the Carries list, with 1.65. Marcus Rashford has 2.45 dribbles per 90 minutes, second only to Jadon Sancho.
For his first season in the Premier League, Mason Greenwood's figures (1.23 carries and 1.43 dribbles) are superb, while Anthony Martial's contribution in both categories is also good. Edinson Cavani does poorly on both counts, but this is mostly owing to PSG's decision to use him as a target man.
Manchester United might benefit from Jadon Sancho's ingenuity.
One of Jadon Sancho's best qualities has always been his ingenuity. The Englishman had a fantastic season for Dortmund, scoring 50 goals and assisting 64 times in 137 appearances across all competitions.
🇩🇪 @Bundesliga_EN Team of the Season@gikiewicz33

C. Trimmel | @matshummels | W. Orban | F. Kostic@Sanchooo10 | J. Kimmich | @esmuellert_ | @mathcunha20 @lewy_official | @ErlingHaaland

— WhoScored.com (@WhoScored) May 23, 2021
In previous seasons, Manchester United has struggled against opponents that line up with numerous players behind the ball. They have dropped points in games against teams from the bottom half of the Premier League, despite having a strong record against some of the top clubs that play more aggressively. In this regard, Jadon Sancho's creative qualities will be extremely beneficial to the team.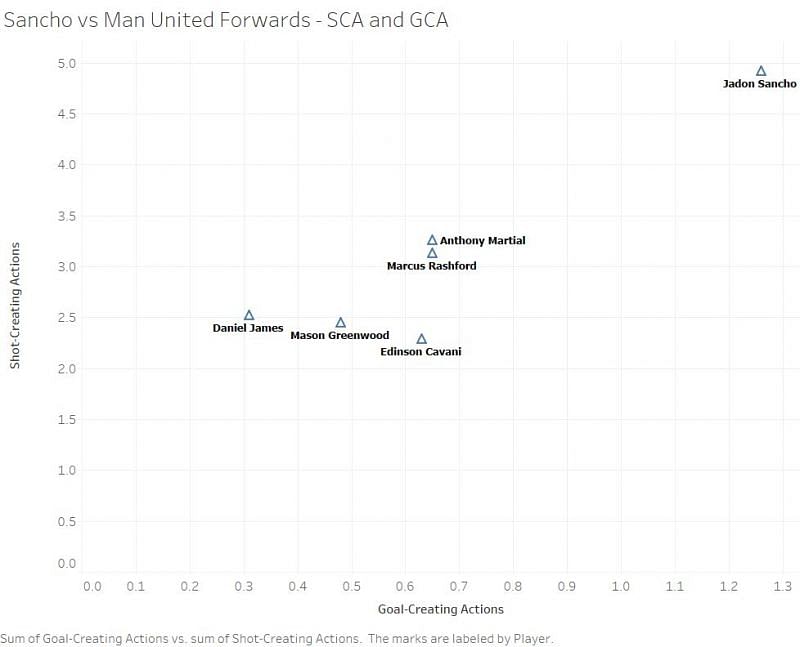 (Note: Shot-Creating Actions are dealt with on the Vertical Axis, while Goal-Creating Actions are dealt with on the Horizontal Axis.)
Shot-Creating Acts, or SCAs, are the two offensive actions that immediately lead to a shot, such as passes, dribbles, and drawing fouls, as described by FBRef. GCAs (goal-creating actions) and GCAs (goal-creating actions) are two offensive actions that lead to a goal.
In the 2019-20 Bundesliga, Jadon Sancho averaged 4.92 SCAs and 1.26 GCAs per 90 minutes. This puts him miles ahead of any other Manchester United forward in their finest league seasons, as the graph shows. Martial has the second-best SCAs, with 3.26 per 90. In terms of GCAs, he and Rashford both had 0.65 per 90, which helped them become a lethal combo in the 2019-20 Premier League season.
Cavani is slightly disadvantaged due to the system he played in at PSG, with 2.29 SCAs and 0.63 GCAs per 90 minutes. While the other of United's forwards have put up impressive figures, they still trail Jadon Sancho in terms of creativity.
Rashford and Bruno Fernandes from midfield have been crucial in igniting the Red Devils' attack on numerous occasions. Both the Englishman and the Portuguese plainly suffered from weariness last season, which resulted in a noticeable drop in performance.
Rashford also suffered an injury near the close of the season, which he appears to still be dealing with while representing England at Euro 2020. For much of the 2020-21 season, players like Martial, James, and Greenwood were not performing at their best, but the latter two did occasionally shine. The addition of Jadon Sancho could relieve the pressure on Rashford and Fernandes to be the focal point of every assault.
Apart from goal-setting characteristics like SCAs and GCAs, Jadon Sancho also produces an amazing final product. He has tremendous vision and makes incredible passes.
(Note: The darker the hue, the higher the number of Passes under Pressure per 90.) Key Passes per 90) are listed underneath the players' names.
The graph above depicts Jadon Sancho's ability to handle the ball under duress. The Englishman not only has speed, but he also has a keen eye for seeing teammates in advanced positions.
Sancho averaged 2.64 Key Passes per 90, far more than Rashford, who came in second with 1.12. In the 2019-20 season, the ex-Dortmund player also had 12.32 Passes under Pressure per 90 minutes. This is an incredible amount for a 21-year-old in a physically demanding sport. With 7.20 Passes Under Pressure per 90, James is in second place.
These figures demonstrate that Manchester United has a lot of variety in its lineup. However, despite his ingenuity, Jadon Sancho brings a critical component to the fore: consistency. Since signing in January 2020, Fernandes has continued to put together strong performances for Manchester United. If Sancho can maintain that level of play in the 2021-22 season, the Red Devils could finally break their trophy drought.
(Note that the horizontal axis represents the players' Goals per Shot on Target per 90, while the vertical axis represents their Average Shooting Distance in Yards.)
Rashford is definitely head and shoulders above everyone else on this list when it comes to shooting from distance (19.6 yards on average). Long-range efforts by the Englishman have resulted in some memorable goals, including an FA Cup free-kick against Chelsea. Only Cavani, who has been dubbed the "fox-in-the-box" throughout his career, has a lower shooting percentage from distance than Jadon Sancho. It's worth mentioning, though, that Sancho's Goals per Shot on Target is extremely high, at 0.61.
Cavani is in second position with a score of 0.51. One of the reasons why the Uruguayan's arrival brought so much joy and relief to United fans is because of this. Cavani's 17 goals last season were a positive indication for a team that has a reputation for creating plenty of chances but failing to take them.
This is clear in the fact that Rashford and Martial have only averaged 0.29 and 0.45 goals per shot on target in their greatest seasons so far. Greenwood, on the other hand, had a 0.50 goals per shot on target rate in the 2019-20 Premier League, which means that precisely half of his shots on target were successful. If Cavani and Greenwood's results are encouraging, Jadon Sancho's numbers are ludicrous.
Jadon Sancho's signing not only improves Manchester United's transitional creativity, but it also gives them a player who can nick a crucial goal when needed.
Jadon Sancho appears to be the final piece of the jigsaw in the Red Devils' assault at the moment, according to statistics. He'll arrive at Old Trafford in the spring of 2020-21 with the same hopes that countless United fans have had since the Ferguson era.
This is a story about hope; about how Jadon Sancho's arrival will re-ignite this Manchester United team and bring them back to the brink of greatness.