On Saturday, the Atlanta Hawks will face the Milwaukee Bucks in Game 6 of the Eastern Conference Finals, with the goal of extending their playoff run in 2021. The Bucks were able to protect their home floor and seize a decisive 3-2 lead despite the absence of Trae Young and Giannis Antetokounmpo in the previous game.
On a rare occasion, practically all of Milwaukee's starters loaded box scores to help the Bucks defeat the Atlanta Hawks. Brook Lopez had a Shaq-like night, dominating the low post and hitting multiple hook jumpers on his way to 33 points. Jrue Holiday, Khris Middleton, and Bobby Portis all had double-digit scoring performances.v
Without their top point guard, the Hawks tried their hardest to keep up. Bogdan Bogdanovic scored 28 points, including seven made three-pointers, to set a new career high. Lou Williams and Danilo Gallinari each scored 19 points to round out the scoring. All of that didn't matter because the Bucks won in front of their home crowd.
Atlanta Hawks Injury Report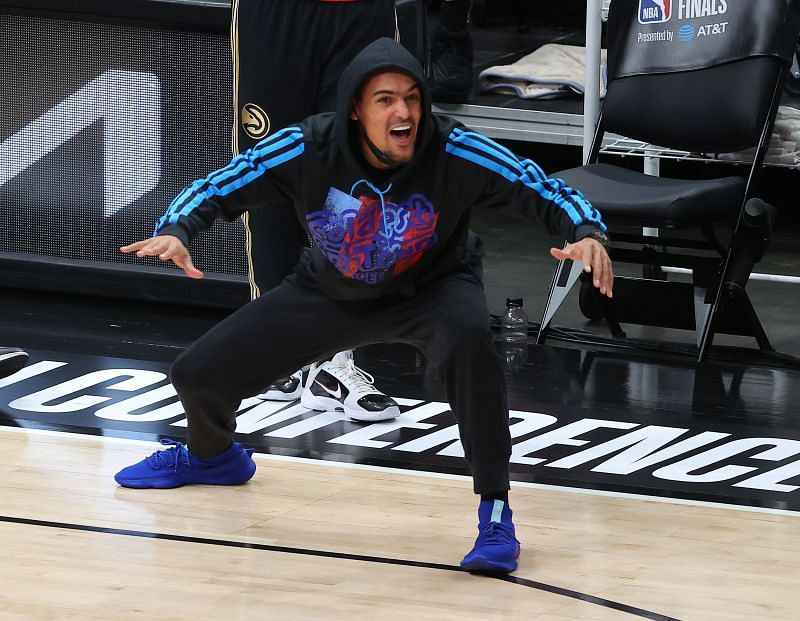 Trae Young cheers his teammates from courtside
Trae Young has missed the Atlanta Hawks' last two games due to a bone bruise on his right foot sustained after stomping on an official during Game 3 of the series. He's classified as questionable for tonight, but head coach Nate McMillan said Young will make the final decision. De'Andre Hunter (right meniscus surgery) and Brandon Goodwin (respiratory problem) are still out.
Milwaukee Bucks Injury Report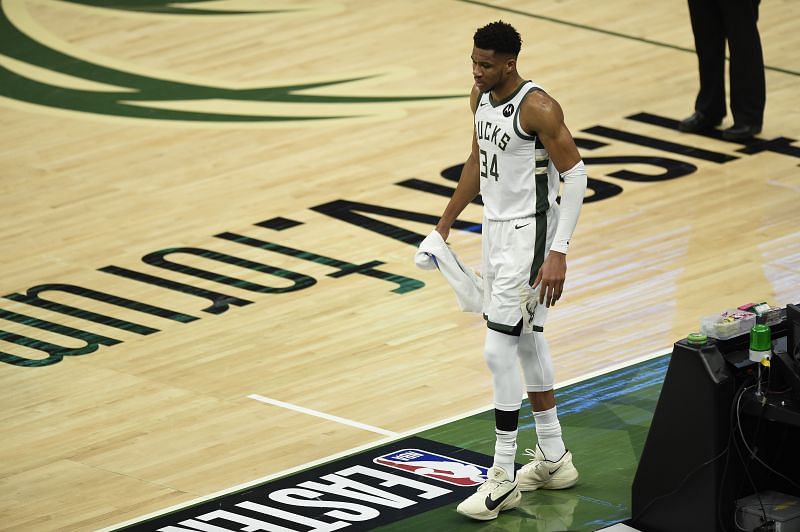 Giannis Antetokounmpo
Due to his hyperextended left knee, Giannis Antetokounmpo is questionable for the second consecutive game. He has a very slim chance of playing tonight for the Milwaukee Bucks. If the Atlanta Hawks win on Saturday, Chris Haynes of Yahoo Sports reports that Giannis will be cleared for Game 7. Donte DiVincenzo is also out due to left ankle surgery.
Milwaukee Bucks vs Atlanta Hawks: Predicted Lineups
Milwaukee Bucks
Jrue Holiday and Khris Middleton will start in the backcourt for the Milwaukee Bucks, as they did in the last game. On Thursday, Bobby Portis performed admirably in Giannis Antetokounmpo's absence, and he is expected to keep his starting role. The starting five will be completed by PJ Tucker and Brook Lopez.
We're gonna do it together. pic.twitter.com/HaFMsvPEBG

— Milwaukee Bucks (@Bucks) July 3, 2021
With all of the starters playing extra minutes in Game 4, Pat Connaughton's playing time was cut in half, but he'll be the Bucks' sixth man once more. Bryn Forbes hasn't had much of an effect in recent games, but he'll get another chance to shine as a substitute.
Hawks of Atlanta
Given the importance of the game, it's safe to presume Trae Young will try to play through his bone bruise and start Game 6 for the Atlanta Hawks. Bogdan Bogdanovic, on the other hand, will try to improve on his performance in the last clash. The starting five will be completed by Kevin Huerter, John Collins, and Clint Capela.
Bogi had 28 PTS & a playoff career-high 7 threes in Game 5.

🎥 Presented by @KumhoTireUSA pic.twitter.com/f7lA7lZTAc

— Atlanta Hawks (@ATLHawks) July 2, 2021
Lou Williams will return to the bench, but you can count on him to contribute important buckets once more. Danilo Gallinari, who will also provide attacking support, is in the similar boat. Cam Reddish is on a time limit, but he'll most likely play more than 20 minutes again. Onyeka Okongwu, the backup center, should also be in the lineup.
Milwaukee Bucks vs Atlanta Hawks: Predicted Starting 5s
Milwaukee Bucks
Point Guard – Jrue Holiday l Shooting Guard – Khris Middleton l Small Forward – PJ Tucker l Power Forward – Bobby Portis l Center – Brook Lopez
Atlanta Hawks
Point Guard – Trae Young l Shooting Guard – Bogdan Bogdanovic l Small Forward – Kevin Huerter l Power Forward – John Collins l Center – Clint Capela