NBA speculations about the New York Knicks' pursuit of a point guard have gained traction, with Chris Paul surfacing as a possible addition for the franchise this offseason.
This season, the team made its comeback to the NBA Playoffs, and they're hoping to add a superstar this summer to help them fight for the crown once more.
According to NBA speculations, Paul has been close to joining the New York Knicks in the past. He is nearing the end of his current contract and is expected to refuse his $44.2 million player option in order to get a multi-year contract.
It remains to be seen whether the Phoenix Suns will provide Chris Paul with the type of contract he desires. However, it appears like they will try to make a push, especially after his heroics this season elevated them to postseason contention. He also led them to their first appearance in the NBA Finals since 1993.
Several point-guard agents, according to Ian Begley of SNY TV, believe Chris Paul could end up playing for the New York Knicks. In his report, he stated the following:
"Several agents representing point guards in the 2021 free agent class are concerned that Paul could end up in New York. Before becoming the president of the Knicks, Leon Rose was Paul's agent. However, Paul would only consider New York if he and Phoenix were unable to strike an accord."
As Begley previously stated, a lot will hinge on the Phoenix Suns and Chris Paul reaching a deal, making this an exciting summer to anticipate.
Agents 'fear' the Knicks as a possible free-agent destination for Chris Paul, per @IanBegley pic.twitter.com/TbLFwCswJE

— Bleacher Report (@BleacherReport) July 2, 2021
NBA Rumors: Why Chris Paul is the best player for the New York Knicks to become perennial playoff contenders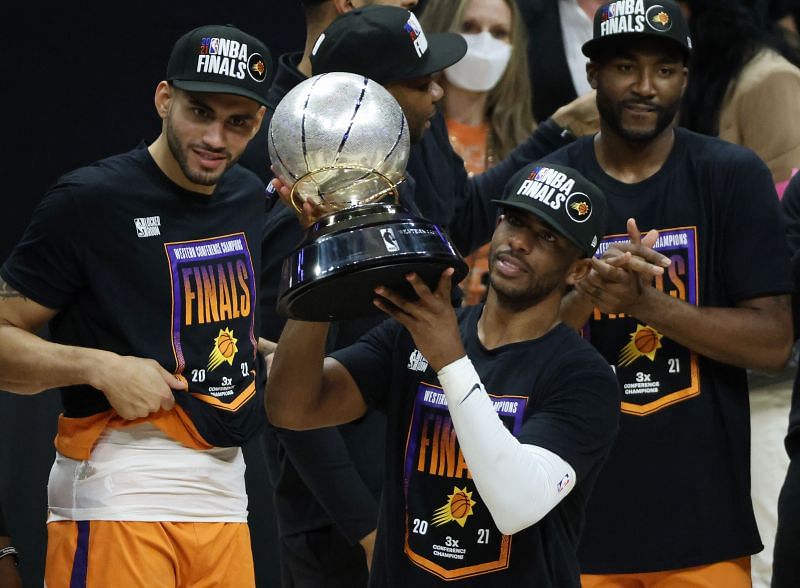 Chris Paul will be making his NBA Finals debut this year
Despite only appearing in one NBA Finals in his 16-year career, Chris Paul has consistently proven to be a capable leader. Since his debut, his presence has benefited practically every squad he has played for. His last two seasons, in particular, bear witness to his status as one of the league's best leaders. The New York Knicks could be the next team to benefit from his guidance.
Paul guided a young Oklahoma City Thunder team to a fifth-seed finish in the 2020 NBA Playoffs, which was completely unexpected, especially after the departure of stars like Paul George and Russell Westbrook. He helped the Phoenix Suns to the playoffs for the first time in a decade in the 2020-21 NBA season, finishing with the second-best record in the league.in the competition
CP3's impact on Deandre Ayton 🧡💜 pic.twitter.com/Nr03pCWpnA

— ESPN (@espn) June 27, 2021
Chris Paul has aided the development of young players while leading the New York Knicks, and the team is currently in that phase. This season, players like Julius Randle and RJ Barrett saw their first taste of postseason basketball and failed to handle the pressure.
Their failures revealed that the New York Knicks need a player like Chris Paul to help them develop at a rapid rate.