Since its inception, PUBG Mobile esports has been steadily increasing. With nearly all of the Spring Split 2021 regional tournaments completed, the focus now switches to the Fall Split.
PUBG Mobile just revealed details on the PMCO: Fall Split 2021. The PUBG Mobile Club Open will take place in 23 regions around the world, with a gigantic prize fund of $2 million split among all regions.
The Southeast Asia and HTM qualification, competition structure, and schedules will be revealed later.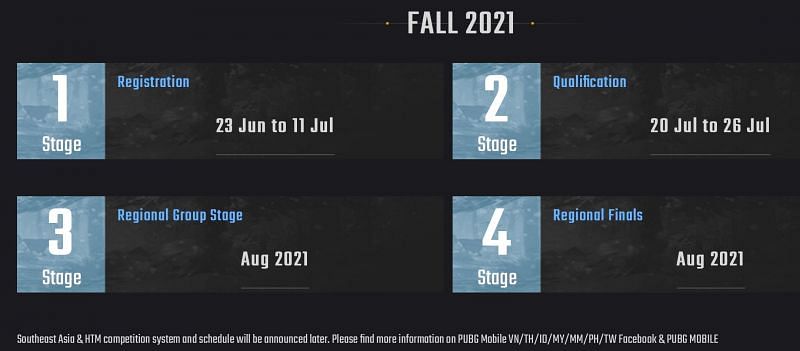 The Fall Split will also include three PUBG Mobile maps. For competitive play, Erangel, Miramar, and Sanhok have been picked, and the tournament will be played in TPP mode.
PUBG Mobile Club Open Fall Split 2021 Schedule
The Fall Split is broken down into four stages:
Stage 1: Registration (June 23rd to July 3rd) – Teams from all over the world can register for the competition.
Teams from India will not be able to register because the game is illegal in India.
Stage 2: Qualification (20th to July 26th) – The enrolled teams will compete in their respective regions for seven days. The schedule for online qualifying is shown below.
Stage 3: Regional Group Stage (August 2021) – Each area will have 32 teams compete in the regional group stage. Some of these teams may be invited, with the number varying depending on the area.
Stage 4: Regional Finals (August 2021) – The regional finals will include a total of 16 teams competing for the ultimate championship as well as further seedings in future events held throughout this split.
To combat cheating in competitions during this split, PUBG Mobile has made the use of the GAC App (Game AC Tool) mandatory beginning with the Regional Finals. From July 26th until August 1st, the tool will be available on the Google Play Store and the App Store.
It will be intriguing to observe which new teams emerge from this split's Club Open. It would also be interesting to see how the qualified teams expand.