As part of the 4th-anniversary event, the Green Criminal Bundle, one of the rarest bundles in Free Fire, has been brought back.
Free Fire offers a wide variety of cosmetics, including tempting and attractive bundles and ensembles. They are purchased for their aesthetic value and have no bearing on the player's gameplay.
The game's creators create new ones as rewards for recent events and reintroduce older ones on a regular basis.
When discussing unusual bundles in the game, players frequently refer to the Green Criminal Bundle.
It has now returned as the big prize of the new Raider Spin event, which the developers have introduced to commemorate the game's fourth anniversary. Finally, they have a chance to reclaim this valuable bundle.
Raider Spin now has a rare Green Criminal Bundle thanks to Garena Free Fire.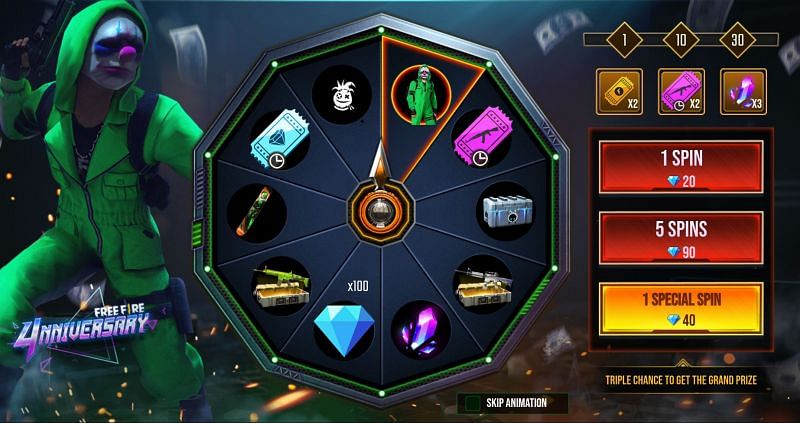 The Raider Spin event began today and will end on August 20th. The event offers a variety of things, but the Green Criminal Bundle is the main draw.
During this time, users must make diamond spins in order to receive one of the ten things at random.
Because the items might be duplicated, obtaining the Green Criminal Bundle within a certain number of attempts is not guaranteed. As a result, the number of diamonds required varies greatly depending on the luck of the players.
The Green Criminal Bundle was available for redemption in the store in late 2018. To get it, players had to gather Lucky Stars. However, due to the difficulties of obtaining these stars, only a few people were able to claim it, making it a valuable commodity in Free Fire.
In early 2019, further criminal packages, such as Red, Purple, Blue, and Yellow, were published as part of the Incubator. Because this was one of the original few incubators, it is quite rare.
More cosmetic goods, including bundles, will be available at the 4th anniversary festivities. On their official pages, the developers hold a vote about the relaunch of the legendary old bundles.
The top three bundles will be brought back in future events after players vote for their favorites.