Stefanos Tsitsipas recently starred in the Greek documentary series "Team Hellas: Road to Tokyo 2021," which follows the country's quest for Olympic medals in Tokyo in 2021. During one of the portions, Tsitsipas was asked a series of questions, including whether he would prefer to win a Major title or an Olympic gold medal. Surprisingly, the 22-year-old chose the second option.
On Sunday, Stefanos Tsitsipas will begin his Olympic campaign against Philipp Kohlschreiber of Germany. The Greek is determined to make his country proud in the quadrennial event, and he has had a successful season leading up to the Games.
Tsitsipas was on the verge of winning his first Grand Slam title at Roland Garros, having won the opening two sets against Novak Djokovic in the final. Over the next three sets, though, the 22-year-old had no answer for Djokovic's consistency, and he eventually fell to a sad defeat.
In light of this, the documentary creators asked Tsitsipas a straightforward question: if he had to choose between winning a Grand Slam and earning a gold medal, which would he choose? The Greek was quick to respond, stating that winning a gold medal would be preferable.
Stefanos Tsitsipas said, "Gold medal."
In the following segment of the interview, Stefanos Tsitsipas said that his favorite athletic moment was Monica Puig winning the women's singles gold in the 2016 Rio Olympics. Tsitsipas also stated that he had always aspired to be a professional tennis player and that his one defect was perfectionism.
Stefanos Tsitsipas was then pressed to reveal one of his negative habits. The Greek said that he spends a lot of time on his phone, which will come as no surprise to his ardent followers.
Tsitsipas made waves on the internet not long ago when he raised the issue of on-court coaching on the ATP tour.
"My father talks a lot during practice" – Stefanos Tsitsipas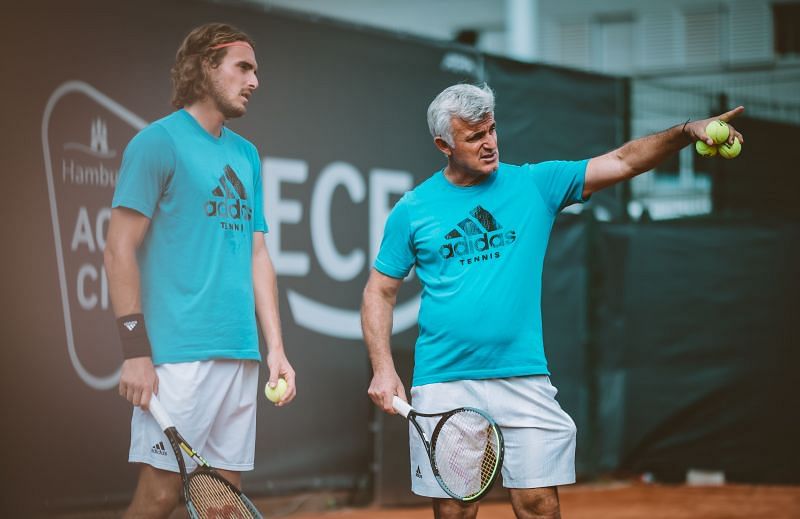 Stefanos Tsitsipas was also asked to reveal the one thing he detested the most. The 22-year-old responded by claiming that his father Apostolos' continuous chit-chat throughout practice irritated him.
"During practice, my father talks a lot," Tstisipas added.
The Greek went on to say that he would love to have the ability to hit aces and groundstroke winners whenever he wanted. Indian Wells was also ranked the finest tournament on the ATP tour by him.
Stefanos Tsitsipas said near the end of the interview that if he hadn't been a tennis player, he would have loved to be a pole vaulter. The 22-year-old then jokedly fired a warning shot at aspiring Greek pole vaulter Emmanoul Karalis.
"Pole vaulting is a sport that involves jumping from a height. Watch out, Manolo [Karalis]!" Tsitsipas made a statement.
When asked if he followed any superstitions before a match, Stefanos Tsitsipas had a surprising response. The Greek said that he washes his hands before each match for good luck, and that he sticks to the same protocol every time.
"I always wash my hands before a match and do the same thing every day," Tsitsipas explained. "It all depends on whether or not I win."