The 24th of September, 2021, in India: This September, Garena will host its largest streamer tournament for Free Fire streamers on BOOYAH!, its all-in-one dedicated gaming video platform.
The top Free Fire streamers from throughout the region will compete for a prize fund of USD 6000 in the BOOYAH! Streamer Royale. The two-day broadcast will begin at 12:00 PM IST on September 27 and 28, and will end at 12:00 PM IST on September 28.
The tournament offers plenty of high-level competition, and viewers can win a variety of thrilling Free Fire drops over the course of the two-day show.
The format of the Garena Streamer Royale tournament is as follows:
Top streamers such as Team Lava, Desi Gamers, Team Elite, and Total Gaming will compete in the BOOYAH! Streamer Royale. The two-day show is the finale of the qualifiers, which saw 48 streamer teams compete earlier this month, making this the largest streamer tournament on BOOYAH! to date.
Participate in the action! Fans that tune in will be rewarded handsomely.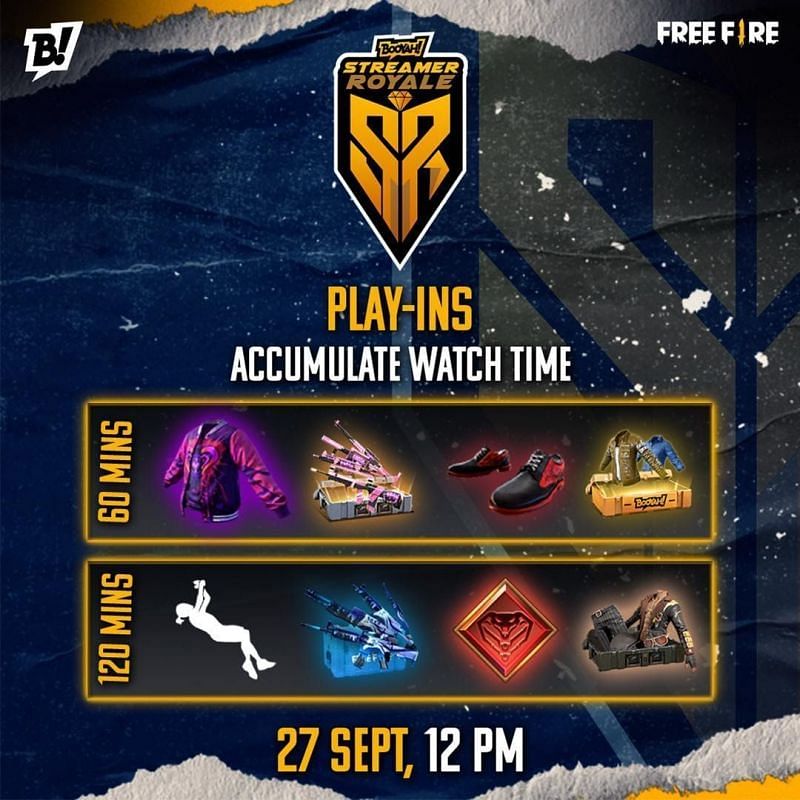 Over the course of the two-day show, fans will have the opportunity to earn Free Fire loot. Viewers will be able to enter an unique time-limited event for a chance to win prizes such as Free Fire Gun Crates, in-game cosmetics, and BOOYAH! Gun Crates if they watch the event for 60 minutes.
Viewers who stay for the entire event will be eligible to win rarer Free Fire Gun Crates, Emotes, Incubator Vouchers, and Pets. To be eligible to collect the prizes, viewers must link their Free Fire accounts to their BOOYAH! accounts.
The tournament will also include entertaining interactive polls that will allow viewers to use the newly added voting option to give their thoughts on who they think will win, who they're pulling for, and other fascinating tournament topics.
Information about the broadcast
Fans may catch all of the action by checking in to the official BOOYAH! channel of India's live broadcast.