While Damian Lillard remains the Portland Trail Blazers' most valuable possession, according to the latest NBA trade rumors, the team is also receiving offers for CJ McCollum. McCollum was drafted a year after Lillard, in 2013, and has acted as his brother in arms since then.
The Portland Trail Blazers have been adamant about avoiding trading CJ McCollum thus far, but that may soon change. He's Portland's sole real asset that can be used to improve the team's squad dramatically.
According to Jason Quick of The Athletic, the Blazers are just getting draft picks in exchange for McCollum. The following is what Quick wrote:
"Teams are contacting the Blazers, requesting CJ McCollum in exchange for a chance to enter the first round of the draft. But Portland isn't interested in those proposals because it's in a win-now mode and prefers to develop around veterans rather than rookies."
CJ McCollum was COOKING in the 1st half.

🔥 26 points
🔥 8-10 shooting
🔥 6 threes

📱💻: https://t.co/Laecx0GSYx pic.twitter.com/JRsmgeRTQ8

— NBA (@NBA) May 11, 2021
CJ McCollum had an injury-plagued season in 2020-21, but he still put up career-highs of 23.1 points and 4.7 assists per game.
NBA Trade Rumors: What Does CJ McCollum's Future Hold for the Portland Trail Blazers?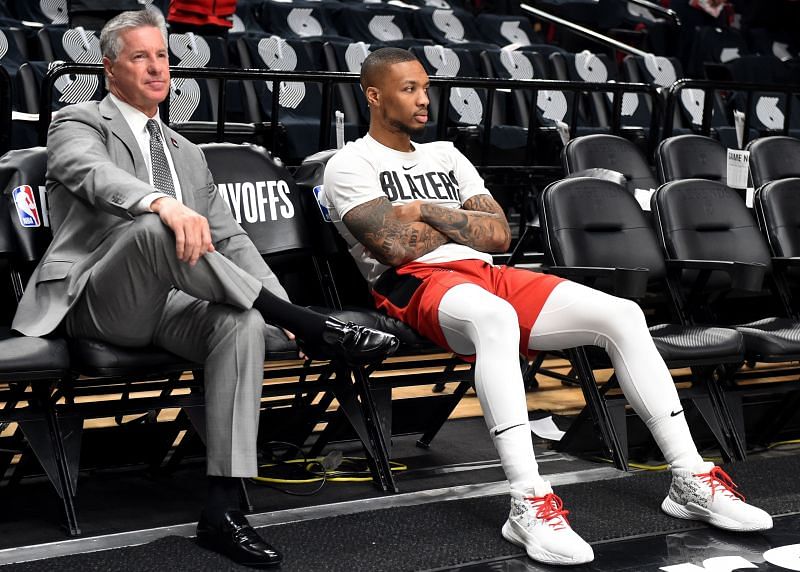 The future of CJ McCollum with the Portland Trail Blazers is in jeopardy. Portland is unlikely to trade McCollum for draft picks as long as Damian Lillard is on the team. President of basketball operations Neil Olshey, on the other hand, is willing to trade McCollum if he can be packaged with another quality player like Ben Simmons.
Annnnnnd…… CJ McCollum for Ben Simmons is already out in the world. @stephenasmith mentioned it this morning. I know it was already on the mind of myself and @DannyMarang

If the Blazers do trade McCollum, he deserves to go to a contender like Philly. Win-win trade.

— Aaron J. Fentress (@AaronJFentress) June 21, 2021
Depending on the assets returned to the Portland Trail Blazers if Lillard is moved, McCollum could become the team's primary ballhandler. If the franchise wishes to stay competitive, he will stay in Portland.
If the Blazers decide to dismantle the team and start over, CJ McCollum will almost certainly be traded in exchange for young players or draft picks. In any case, McCollum's future with the Portland Trail Blazers is inextricably linked to Damian Lillard's ambitions.