Players have been anticipating the arrival of Battlegrounds Mobile India since it was announced in May. Several changes have occurred, including the launch of Early Access for the battle royale game just a few days ago. It has already surpassed 5 million downloads in a short time, demonstrating the game's popularity.
Other facts revealed by Krafton include the Battlegrounds Mobile India Community Policy and Rules of Conduct.
Battlegrounds Mobile India has its own set of rules, ban periods, and other information.
The game's official website has published the game's rules of conduct, which supply players with a wealth of information. It contains information on misconduct, suspension periods, and other rules, such as Krafton's Duties and Responsibilities, User's Responsibilities and Rights, and more.

The Battlegrounds Mobile India guidelines must be followed by all users.
Do Not Use Unauthorized Programs or Hardware Devices
Do Not Modify the Game Client, Servers, or Game Data
Do Not Exploit Vulnerabilities in the Game (Bugs and Glitches)
Do Not Discriminate Against Others
Do Not Use Inappropriate Nicknames
Do Not Team kill
Do Not Team Up
Do Not Stalk Other Players from Match to Match
Do Not Publish Personal Information
Do Not Manipulate Match Results
Do Not Steal Another User's Account
Do Not AFK (Away From Keyboard or idling)
Do Not Trade/Sell Accounts
Do Not Disturb Business Operations
Do Not Play the Game Abnormally
Other Undefined Misconduct
They are recommended to avoid all the acts above as there will be severe consequences.
Bans
Miscounts will result in bans in Battlegrounds Mobile India. The duration of these suspensions was also given by the developer, as shown below: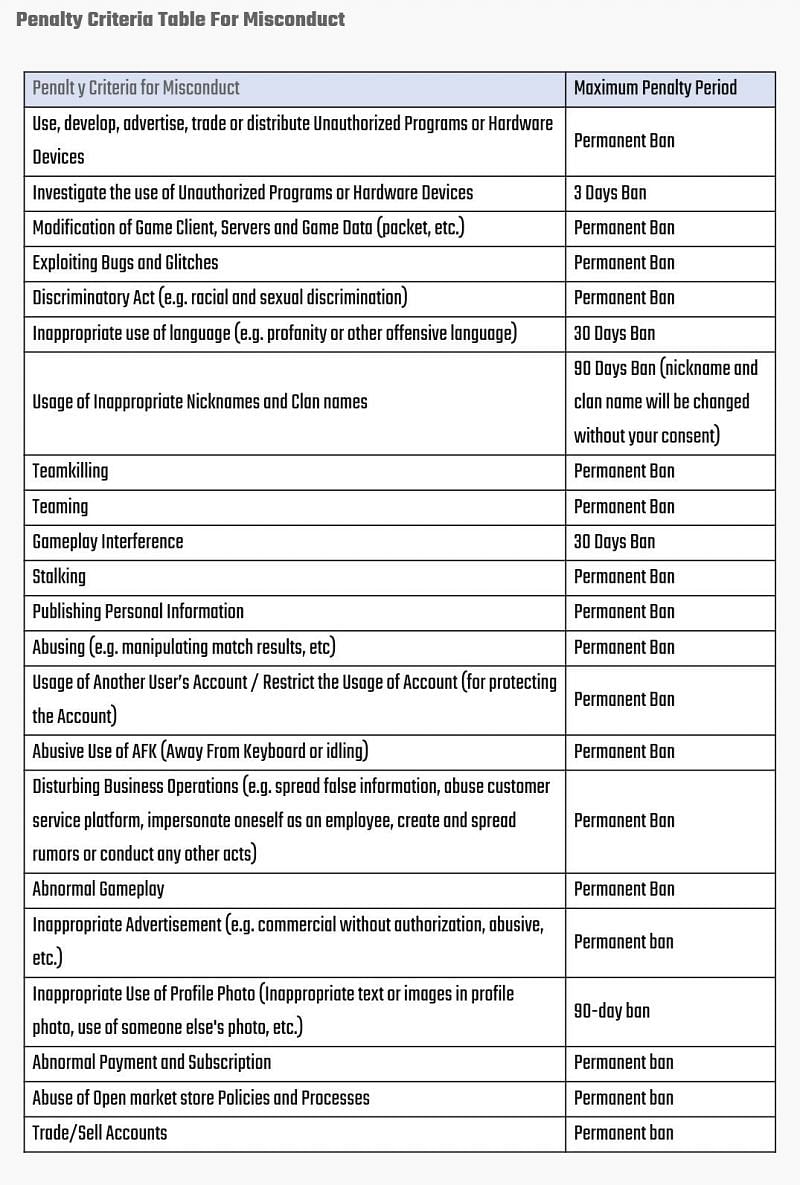 Players can check out the complete Rules of Conduct by clicking here.
Instagram post: