It's no wonder that sports cars are among the most popular types of vehicles in GTA Online. They are sleek and appealing, and their performance leaves no doubt as to their use.
While supercars are more frequently sought after, sports cars are generally the more practical alternative due to their lower costs when compared to the former. There are 79 sports vehicles to select from in GTA Online, and not all of them are worth purchasing.
This article highlights 5 of the greatest accessible sports cars in GTA Online for users to purchase.
5 best sports cars in GTA Online as of June 2021
5) Dinka Sugoi
The Dinka Sugoi is one of GTA Online's greatest 5-door sports vehicles. It's the coolest looking sedan in the game, and it's based on the newest Honda Civic Type-R hatchback.
Although its performance is inferior to that of other sports cars, it is nevertheless a pleasant FWD vehicle to drive. The extensive customization choices, which include different decals and body changes, are an extra benefit.
The Sugoi is priced at $1,224,000, but it is available for a trade-in price of $918,000, making it the greatest sedan under $1 million.
4) Pfister Comet SR
The Comet is a well-known car in the Grand Theft Auto franchise, appearing in both the 3D and HD Universe games. The Comet SR is a race-oriented version of the standard Comet with significant upgrades all around.
The exorbitant price difference between the normal and SR variants is warranted. The Comet has always been known for its excellent handling in most GTA games, and the SR model in GTA Online is no exception. This model is clearly quicker than the original, but it is also much more agile.
The automobile costs $1,145,000 and should be a good buy for the majority of gamers.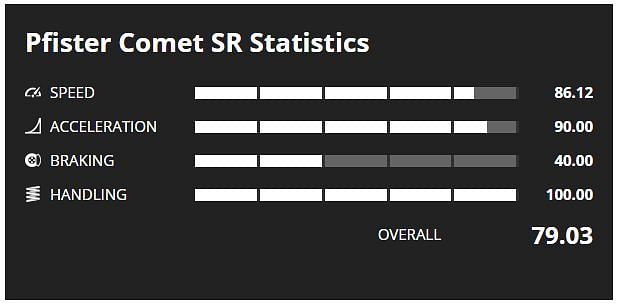 3) Dewbauchee Seven-70
The Dewbauchee Seven-70 is one of the best alternatives for an inexpensive sports vehicle in GTA Online, priced at $695,000 USD. Despite the fact that acceleration isn't its greatest suit, it boasts a reasonable top speed.
The Seven-70 falls behind other sports cars in terms of acceleration since it is a RWD car with a large weight. It is also hampered by insufficient traction.
The car is currently being sold at $417,000 after a 40% discount, which makes it the best sports car purchase below $500k.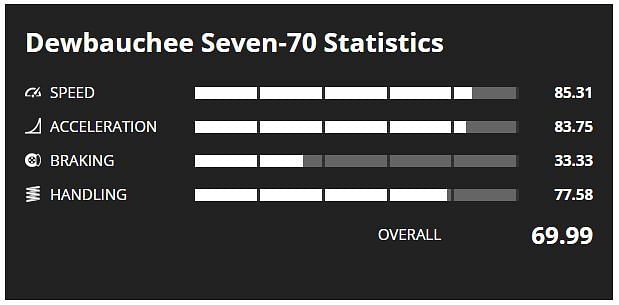 2) Ocelot Pariah
The Ocelot Pariah is a cross between a Ferrari and an Aston Martin, making it one of GTA Online's most visually beautiful sports vehicles.
The vehicle is extremely light, making it an excellent choice for races with longer straights. However, automobiles with better handling outperform it in tight track turns. The Pariah has a top speed of 136 miles per hour and surpasses all other automobiles without a booster.
Legendary Motorsport is selling it at $1,420,000 to GTA Online gamers.
1) Grotti Itali RSX
The Itali RSX is exorbitantly priced for a car in the Sports class, yet there are solid reasons for this. While the usual price is $3,465,000, players may obtain it for a trade price of $2,598,750.
In regular land racing, the Itali RSX is an exceptional vehicle. It boasts an extremely high top speed and better-than-average acceleration, which allows it to outrun the majority of cars in the Super class.
The crash deformation of the car is extraordinary, although the somewhat unstable handling makes the car more prone to spinning out.