Ajjubhai is an Indian Free Fire content creator with a large YouTube following. Total Gaming, his YouTube channel, has over 26.5 million subscribers and 4.31 billion views, demonstrating his widespread appeal.
OP Vincenzo is a well-known member of the Free Fire community. The Middle Eastern gamer is well-known for his gameplay, with 6.29 million subscribers and 415.05 million views.
Free Fire ID & Stats from Ajjubhai
His Free Fire ID is 451012596.
Lifetime stats
To date, Ajjubhai has 11889 squad games under his belt, with 2899 first-place finishes and a victory rate of 24.38 percent. He has a K/D ratio of 4.98 with 44745 kills.
The YouTuber has won 347 out of 1777 pair matches, resulting in a 19.52 percent win rate. With a K/D ratio of 4.94, he has collected 7061 frags.
With 940 single games and 87 Booyahs, the internet sensation has a win record of 9.25 percent. He has a K/D ratio of 2.85 with 2434 eliminations.
Ranked stats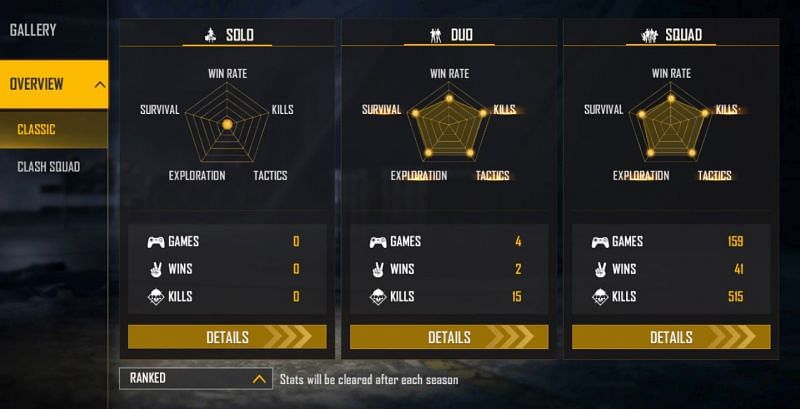 In the current ranked season, Total Gaming has appeared in 159 squad matches, winning 41 of them for a win ratio of 25.78 percent. He's amassed 515 frags in the process, with a K/D ratio of 4.36.
The streamer has two wins in four duo games, giving him a 50.00 percent win percentage. With a K/D ratio of 7.50, he has slain 15 foes.
Vincenzo's Free Fire ID and Stats for OP Vincenzo
His Free Fire ID is 437144862.
Lifetime stats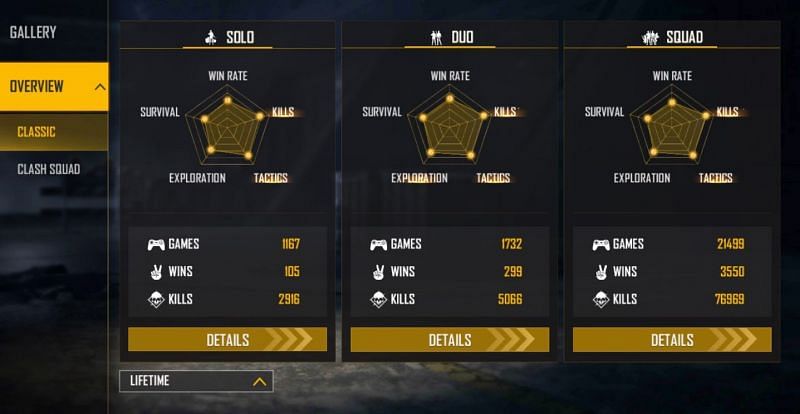 OP Vincenzo has won 3550 of the 21499 squad games he has played in Free Fire, giving him a victory percentage of 16.51 percent. With a K/D ratio of 4.29, he has 76969 kills.
The streamer has won 299 out of 1732 duo matches, equivalent to a win rate of 17.26 percent. He has 5066 frags and a K/D ratio of 3.54.
The content creator has played 1167 solo games and won 105 of them, giving him an 8.99 percent win rate. He has 2916 eliminations with a K/D ratio of 2.75.
Ranked stats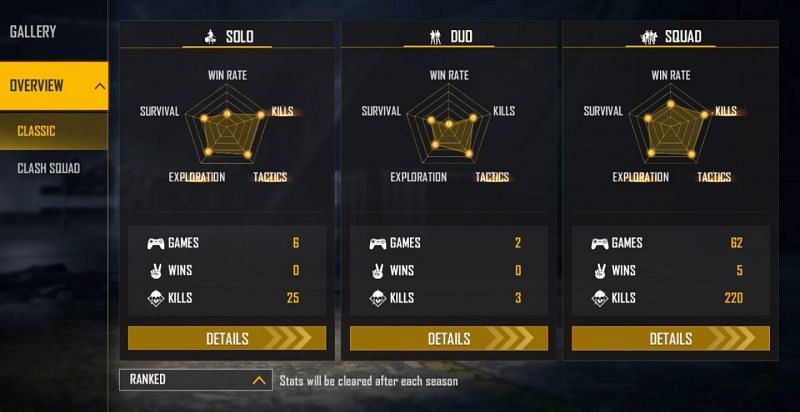 The internet sensation has featured in 62 rated squad matches, winning five of them for an 8.06 percent victory percentage. He's racked up 220 kills for a K/D ratio of 3.86.
The broadcaster has completed two pair games and six solo games, killing three and 25 foes respectively at 1.50 and 4.17 K/D ratios.
Comparison
Comparing their stats will be difficult due to the fact that they play in separate regions. In all-time games, however, Ajjubhai holds the upper hand in all three modes — solo, duo, and squad — based on their numbers.
Because Ajjubhai and Vincenzo have only played a few games, their rated stats in solo and pair formats cannot be compared. In terms of K/D ratio and win rate, Total Gaming holds the upper hand in squad mode.
The statistics in this article were compiled at the time of publication. They may change as more games in Garena Free Fire are played by the content providers.